Attract High-Quality Leads, Fill Your Email List With Your Potential Clients, And Sell Your High-Ticket Offers On Autopilot
Do you know the number #1 reason why many coaches, course creators, and service providers struggle to generate sales from their email lists?
It's not that they are less talented.
Or, they have a bad offer.
Or, they don't know how to sell.
It's because they don't have quality subscribers in their list.
Yes....quality subscribers!!
Now you might be thinking what are these quality subscribers exactly?
These are the people who regularly open & read your emails, and invest their money in your products/offers. You might spend hours on writing the world's most creative & perfect emails laden with stories (giving competition even to the great Shakespeare) - but if nobody is opening & reading them then what's even the point???
So, how can you get these high-quality subscribers that engage with your emails & purchase your high-ticket products?
The answer is simple...have the right lead magnet.
Let me clear that again..not just any lead magnet but the right lead magnet.
Now, if you are thinking that having a Newsletter is enough as a lead magnet then I am sorry to break this to you that you are hugely mistaken.
A newsletter can never be a lead magnet. PERIOD
Nobody wants to join another email newsletter. People are already overwhelmed with too many newsletters.
A newsletter doesn't attract the attention of people as well as a lead magnet does. Having a special lead magnet pulls their attention in such a way that no newsletter can.
So, what's this right lead magnet look like? To explain this, let me share with you my own experience. (Who could know this better than me!!)
When I was blogging and wanted to build my email list, I got this very step wrong and it took me multiple attempts to undo my mistake.
In the quest to craft the right lead magnet, I had to go through multiple lead magnet failures. My 9 lead magnets failed to fetch any leads. In total, I tested 10.
I was extremely frustrated.
I was fed up with writing & designing e-books after e-books in Canva, to the point that my fingers were badly hurting.
So many hours & days spent one only to see zero results. But after suffering multiple dejections & failures, I finally cracked the right lead magnet code.
Finally, my 10th lead magnet (and the 1st successful one) generated my first 50 leads that no other could, in a matter of days.
In fact, I used the same lead magnet code to build the 2nd successful lead magnet that brought me $1000s of dollars in sales from a small email list.
So, what was different in this lead magnet that the other 9 ones did not have?
The winning lead magnet:
✓ Targeted a specific audience
✓ Solved a specific problem
✓ Didn't have any generic information
✓ Included my personal experience & learnings
✓ Was short and easy to consume
✓ Prepared leads to buy my product
The losing lead magnets:
 Did not target a specific audience
 Had Googleable information
 Didn't include my personal experience & learning
 Were long and time taking to consume (e.g 50+ page ebook)
 Didn't prepare leads to make a purchase
After taking lessons from my lead magnet testing, I can confidently say that if your lead magnet isn't preparing your audience to buy from you then it's better to replace it.
How having the right lead magnet will change your business
The right lead magnet will not only help you to attract the attention of high-quality leads but also fill your email list with your potential clients, which means:
➤ You never have to struggle to get clients
➤ You can easily increase your client retention rate
➤ You can use your existing subscribers to get more subscribers
The possibilities for growth are numerous.
However, creating the right lead magnet is not as easy as it seems.
It may take lots of trial and error to find out what will make people interested in joining your email list.
For me, it was challenging to find that out and it took so many attempts.
But you don't have to waste your precious time & energy doing that.
In order to save you from the frustration that I went through, I have created a special program to help build your client-attracting lead magnet.
Introducing……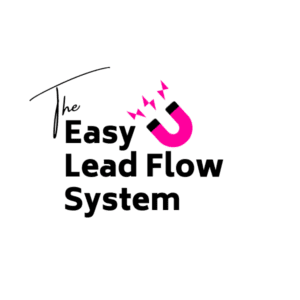 The program to build your client attracting lead magnet that fills your email list with your potential clients
This system is a perfect fit for you if want to:
✓  Create a lead magnet that resonates with your ideal clients and positions you as an expert
✓  Generate high-quality leads consistently
✓  Have your email list full of your potential clients
✓  Enroll clients into your programs without months of convincing them
✓  Reduce or eliminate your reliance on sales calls to sign clients
✓  Increase your client retention rate
What You'll Get Inside This
A strong strategy forms the base of a successful Lead Flow System. Your customized strategy will give you a clear direction on what lead magnet to create, and how to promote it to generate leads.
You'll get:
✓  An audit of your existing lead generation funnel in order to find the leaks.
✓  Lead magnet blueprint that'll enable you to build a lead magnet that fills your email list with your ideal clients.
✓  Lead magnet promotion plan to help you find the right channels to promote your lead magnet & generate leads.
✓  The email list growth strategy that'll give you a clear roadmap to grow your email list without stress.
✓  Content ideas for your lead nurture email sequence.
You'll get:
✓  Your lead magnet design that'll resonate with your audience and potential clients, and prove your expertise.
✓  Visually appealing lead magnet landing page/opt-in page design that'll compel your visitors to sign up.
You'll get:
✓  Email nurture sequence: A series of lead nurture emails that'll not only build a connection with your new leads but also turn them into your clients.
✓  Email automation setup: Technical integration that'll help you nurture your leads on autopilot and move them down the funnel.
✓  Messenger bot setup: Integrate your messenger bot with your lead magnet to automatically turn your FB/Instagram followers into your leads.
You Have 3 Packages To Choose From
SILVER
This is a Do-It-Yourself Package where I'll give you the entire Strategy & Roadmap for your "Easy Lead Flow System" so that you can implement it on your own.
This also includes free 30-day email support & 2-3 hour video sessions & recordings.
Time Of Delivery: 5-7 days
GOLD
This is a Done-With-You Package i.e. I guide you and you do the work, where we'll work together to set up your "Easy Lead Flow System".
All the strategy & support (video + email) would be provided.
Your Time Commitment: 5-10 hours
DIAMOND
This is a Done-For-You Package where I'll work to set up your "Easy Lead Flow System".
All the progress reports (via video + email) will be provided.
Time Of Delivery: 15-21 days
Step #1: Choose your package.
Step #2: DM me "TELFS" on Facebook Messenger.
Step #3: We'll talk about if we are a good fit and what your goals are.
Step #4: If it's a yes then I'll send you the payment link & contract (if required).
Step #5: You make the payment.
Step #6: I'll send you a questionnaire, and then we'll hop on a video call to discuss everything around your business.
Step #7: We'll start building, implementing, testing & optimizing.
Still, got questions? I got the answers...
What Email Automations tool do you work with?
I mainly specialize in ActiveCampaign and Convertkit. But, I am open to working with all. If you have any other ESP then I would require some extra time to understand the workings of your ESP.
What kind of businesses do you work with?
This program is mainly suitable for coaches/creators who have validated products, good testimonials, and subject-matter expertise.
Do you need access to my ESP?
Yes. In order to build your nurture sequence and tech integrations, I would need access to your ESP.
Will you also help me improve my complete sales funnel & offers?
Yes! I'll help you with that. But, if your offer is not proven to work or your market isn't good then I won't be able to offer much help.
Refunds would only be offered if I am unable to work on something that you paid for. for e.g., If you paid me in advance and I cannot continue working with you for some reason then I'll refund your money. However, I won't be able to offer refunds for the work that I have already completed.
Do I need to sign a contract?
Do I need to pay in advance?
Yes, you need to pay 100% upfront if you opt for anything else than the monthly plan.
How do you accept payments?
PayPal is the preferred choice.
Ready to generate leads the easy way?